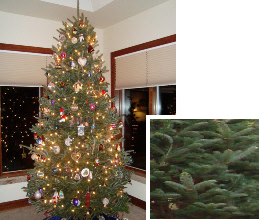 Fraser Fir
Also known as "Southern Balsam," this stately fir, native to the Great Smoky Mountains of western North Carolina and eastern Tennessee, is closely related to its northern counterpart. Its soft, emerald-green needles with silvery undersides are about three-quarters of an inch in length. Its bottlebrush texture, sturdy branching, and outstanding needle retention make it one of the superb Christmas tree varieties whose popularity has grown rapidly in recent years.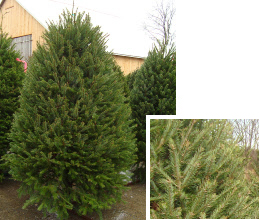 Douglas Fir
First studied by Scottish botanist, David Douglas, in the 1820's, this conifer is widely distributed throughout western North America from the interior lake country of British Columbia to the mountains of Mexico. Found in the central Rockies, the hardy "blue" strain is widely used as a Christmas tree in the Northeast. Its lush, blue-green foliage, with needles about one inch in length, is very attractive. Its sturdy branching and outstanding needle retention make this evergreen a holiday favorite.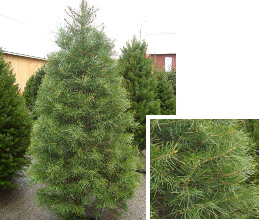 Concolor
Most commonly known as White Fir, this evergreen is widely distributed throughout the southwestern United States, from the Rockies of Colorado and New Mexico in the east, to California's Sierra Nevada range in the west. Its soft, silvery-blue foliage, with flattened needles about two to three inches in length, has a distinctive citrus aroma. Its outstanding color and excellent needle retention make it an increasingly popular Christmas tree.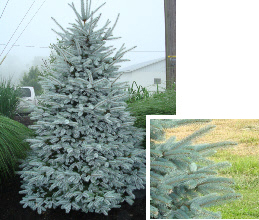 Colorado Blue Spruce
Found throughout the central Rockies, this spruce borrows its name from the Centennial State and has stout, three-sided needles about three-quarters of an inch in length. Its foliage can vary in color from dark green to indigo blue. Its sturdy branching and good needle retention make it a desirable Christmas tree, while its excellent form and outstanding color make it the premier ornamental evergreen.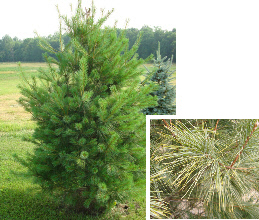 White Pine
Widely distributed throughout the forests of eastern North America, this tree, native to the Northeast, has soft, lacy, blue-green foliage with needles about three to four inches in length. A very graceful-looking evergreen, its fragrance and excellent needle retention made it a popular Christmas tree for many years, especially in the traditional South.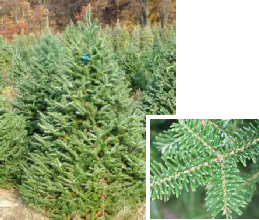 Canaan Fir
Found widely within the Canaan Valley of northeastern West Virginia, this tree is a genetic variation of traditional Balsam Fir. Native also to Pennsylvania and New York where it can be found in remote stands, its range extends as far north as Sheet Harbour, Nova Scotia. Although similar in appearance to the traditional sources, its needles tend to be longer, about one inch in length, and vary more in color. Its foliage, however, can often retain the bottlebrush appearance of Fraser Fir, its southern counterpart. Relatively new to the Christmas tree industry, its popularity continues to rise.