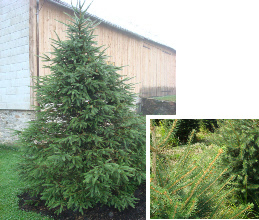 Norway Spruce
Fastest growing of the spruce. Develops strong, graceful branches that are covered with dark green needles. Ideal for windbreakers. Matures at 60' tall; 25' spread. Tolerates sun or shade areas. Will grow in both wet and well drained soil.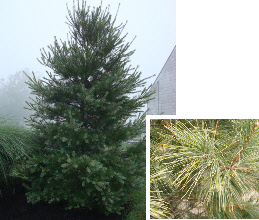 White Pines
A hardy tree. Clustered soft, blue-green needles. Ideal for screens or windbreaks. Likes moist, well drained soil. Matures at 50' – 80' tall; 20' – 40' spread in the landscape, up to 150' or more in the wild.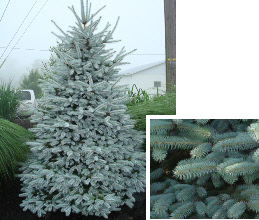 Blue Spruce
Its beautiful year-round color, exceptional consistency in form, and its superb adaptability to a variety of growing conditions make the Blue Spruce one of the most popular evergreens. This tree features beautiful short blue to blue-green needles. It is great for natural screens, windbreakers, and shade tree. This tree grows at a good rate and will mature at 50' – 75' tall; 10'-20' spread.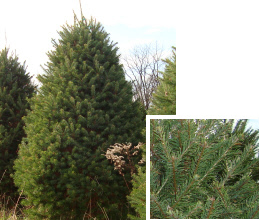 Douglas Fir
This tree has green to bluish-green needles, with the needles occasionally turning yellowish-green for part of the year. It prefers sun or light shade with moist, well-drained soil. Douglas Fir mature at 40' – 70' tall with a 12' – 20' spread.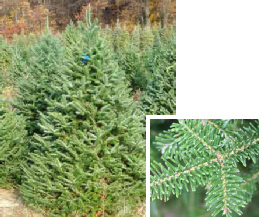 Canaan Fir
Natural hybrid between Balsam and Fraser Fir; medium to fast growth rate. This tree prefers full to partial sun and tolerates a variety of soil. This tree is often grown as a Christmas tree, ornamental, and for timber.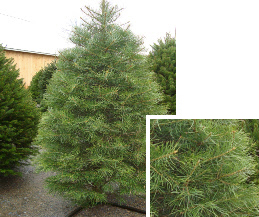 Concolor Fir
The beautiful Concolor Fir has light-colored bark and silver, blue-green needles. This tree tolerates most soil types and condition, as well as drought once it is established. Concolor Fir prefer full to partial sun and are often used as ornamental and Christmas trees. Mature height is around 50' with a 20' spread.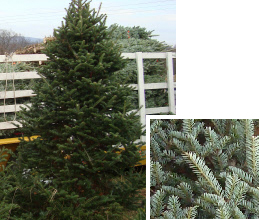 Fraser Fir
Fraser Fir trees have blue-green needles with a silvery underside. These trees have a medium growth rate and prefer full to partial sun. They do best in moist, well drained soil, and are usually grown for Christmas trees and ornamental.